I'm sorry I didn't get around to everyone from last week's party. I have been under the weather of late and just wasn't able to get around to chat

(comment)

with you all. The project's you shared were imaginative, festive and cheery and I loved them all! Thank you so much for coming here to share your creative gifts!
ROCK 'N SHARE PINTEREST GALLERY INDUCTEES from Week #6
(
projects with the most views, and a link back to The Shady Porch
)
Congratulations & Thank You for joining the party!
Be sure to get your

Rock 'n Share Gallery
Button!
(on sidebar)
You can see all the inductees to the
Rock 'N Share Gallery


Now Let's Party!
The only requirement is a link back! (No link back = No features)---
a text link at the bottom of your post, or a Rock 'N Share button (
see sidebar or below
)! You may copy and paste the text link provided below onto your blog post, in the event you are not sure how to do it otherwise.
The Shady Porch
Please follow The Shady Porch, although it's NOT a requirement.
** I will always follow back! Just leave me a comment, so I'll know!**
I also ask ...
Everything be family friendly!

Link up your own projects...something that you've created. Please only post projects new to the Rock 'N Share...no repeats from previous parties!

Link to a specific post not your Home page! No Etsy shops or other businesses!
Mingle! Introduce yourself (comment) on other party projects! Be kind! Make new friends!
I reserve the right to remove links that are in violation of these requests!
**I will be sharing my personal favorites on

my Facebook

throughout the week!**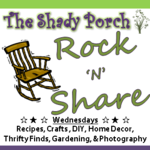 Be sure to check back each Wednesday to see if you've been featured!