We love sandwiches at our house so I was glad to see this month's Crazy Cooking Challenge would afford us another opportunity to try some new sandwich recipes, specifically grilled cheese sandwiches! It was my favorite challenge so far!
It came down to two great sandwiches, we loved the Sloppy Joe Grilled Cheese Recipe and a Garlic-Toasted Grilled Cheese BLT! Although both sandwiches were awesome, we decided the Garlic Grilled Cheese BLT was our favorite.
Garlic-Toasted Grilled Cheese BLT
I combined features from two unique recipes, one from Recipes We Love and the other from Bakerita. Both of these blogs have a great arrays of delicious recipes that I recommend.
Bakerita is run by Rachel, who is a eighteen-year-old with a passion for…baking, of course! I'm glad she branched out and shared her BLT, too! In addition to wonderful recipes, her photography is awesome! Her pictures make you hungry just looking at them!
The other recipe that inspired my sandwich was from Amber and Ann Kelly at Recipes We Love. I got to know these gals last year through the CCC's mashed potato challenge! I was inspired by their wonderful recipe for Bacon & Cheddar Mashed Potatoes, which I made and won the CCC!
Here is my Garlic-Toasted Grilled Cheese BLT sandwich that sprung from these two wonderfully inspiring recipes!
Garlic-Toasted Grilled Cheese BLT
Ingredients
Sour Dough Bread - sliced for sandwiches
Mozzarella Cheese - shredded
Directions
First, we fried our bacon on the griddle so we would have crisp, flat slices. Then, in a skillet, we browned about 1 T. of minced garlic in approx 3T. of butter.

Once the bacon was finished, we removed it from the grill to drain on a paper towel, and we lightly wiped down the griddle to remove excess bacon grease.

Next we poured the garlic butter mix on the griddle and spread it around. Then, as the garlic mixture began to heat up, we placed our sour dough bread slices on the griddle, heaping mozzarella cheese on top; then we added the bacon, tomato, lettuce, and more cheese.

We topped the sandwich with another slice of bread and flipped it over to brown the other side. The cheese oozed out and browned on the edges of the bread. If you're like us, that's one of the best parts!
We served the sandwiches with nacho chips topped with melted cheddar. It was a wonderful meal...full of garlic, bacon and cheese flavors that are awesome together! We'll never settle for a plain BLT again ... and I bet you won't, either!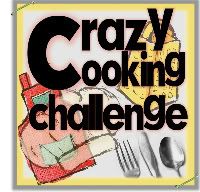 My previous Crazy Cooking Challenge recipes:
Crumb Top Blueberry Muffins
I would love for you to follow me on Facebook!
Thanks for stopping by!