Hey Everybody, I hope your week is going well. We're at a busy time of year at our house.
My hubby, the coach, is in the midst of his track & field season with a huge invitational coming up Saturday. Of course, it's nearing end-of-year for school and that means finals and review games. Over the years, I have taken the role of meet statistician, meet program designer, and PowerPoint review game developer, and thanks to years of practice, it runs like a well oiled-machine around here...(not!) For some reason it's always hectic! Oh, I forgot to mention we're also getting our garden set up for the year and training our 4-month-old pup Sophie, too! Fun! I've posted a little picture of Sophie at the end of the post so you can see the newest member of our family.
Anyway, I ramble. I want to thank you all for choosing to link here at the Shady Porch each week! You are a really talented, and inspiring group!
Here are this week's most viewed projects!
Congratulations!
Thank You for joining the party!
You can see ALL the inductees to the Rock 'N Share Gallery below.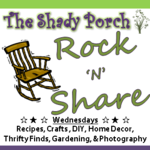 The Rock 'N Share basics:
Link up your crafts, recipes, DIY projects, or anything else you created.
Link back to The Shady Porch somehow (button or text link) OR

Give a shout out on Facebook/Twitter to be eligible for features!

Please be a follower, although not mandatory.

Please do not link up anything for sale, giveaways, parties or advertisements.

Mingle! Be kind! Make new friends! Comment on other party projects!



By linking to the Rock 'N Share, you are giving me permission to post your photos in feature posts on Facebook, Twitter, Pinterest and/or Google+.
I reserve the right to remove links that are in violation of these requests!
(No button / link back / or shout out = No features) (pick at least one)
Party Links are in Random Order so everyone has the chance to be at the top!

Follow The Shady Porch...I always follow back!